I recently attended the launch of the Association of Charitable Foundations' "Foundation Giving Trends 2017" Report – a review of key facts and trends from the top 300 Charitable Foundations.  The report authors introduced some of the highlights and the floor was then opened to a variety of questions from the audience, the majority of whom were, as I was, representing ACF members.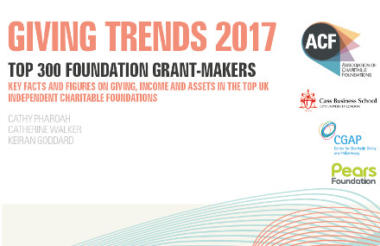 The headline finding is that giving from the Top 300 Foundations hit a record high at £2.9 billion last year.  This suggests a strong sector with growing capacity to distribute funds for social and environmental change and seems somewhat at odds with the struggle that many charities and social enterprises say they face when seeking funds for their activities.
Reading the detail of the report itself demonstrates a number of potential reasons why this apparent bounty is not being felt by those on the ground, without even considering trends in government funding (covered in more depth elsewhere, for example NCVO's Almanac) or whether increasing levels of need are a factor.
For a start the top 300 Foundations make up 90% of total foundation giving.  Assuming that few of these foundations make thousands of grants a year, one might conclude that a significant proportion of the giving is made up of (very) large grants. Case studies in the report include seven new entrants to the Top 300 who between them made multiple grants exceeding £1 million each, often to some of the largest UK charities or institutions.  When one considers that there are over 160,000 charities in England and Wales alone, 13,000 CICs registered and many thousands more voluntary and community groups, many of which place significant reliance on grants, the pool of key funding sources and the likely availability of grants that would be of a size they can access begins to look a lot smaller.
In addition, reviewing the case studies and scanning the list of the largest givers demonstrates that a significant proportion of these tend to fund their own initiatives or those in collaboration with selected partners and/ or do not hold open grants rounds or accept unsolicited applications.  (Although this is not to say that there are no such funders listed – the top 300 also includes key providers of a range of smaller grants).  Without taking away from the huge contribution that the "closed" funders make, this is of little benefit to the many organisations working hand to mouth and seeking funds to support their work.
To better reflect their experiences a more detailed piece of sub-analysis considering the total amounts distributed in various bandings would potentially be revealing and could provide valuable insights for funders to target their funding in a way that is proportionate to the needs of those they are seeking to support.  The report analyses Foundations by total amounts distributed but I suspect data currently available on the size of individual grants would make this analysis an arduous task.  360 Giving was an initiative cited as a useful information source by authors Cathy Pharoah and Catherine Walker and should allow for this more granular breakdown if the dataset were more complete.
I was really interested that the theme of collaboration was drawn out in this year's review as it seems to me to be the logical way to fund the broad-based work that is needed to tackle some of our biggest challenges.  There is evidence from the case studies of a variety of models for collaboration which in theory may encourage others to consider working in this way but I wonder if more details on the "nuts and bolts" of this successful joint-working could do more to prompt such a shift.  Who initiates these programmes?  How are partners selected?  How is impact measured?
Discussion at the launch touched on changes in the giving environment with fewer personal and family foundations being formed and a trend for companies to give directly rather than through corporate foundations.  While this may not mark a reduction in the overall amount being distributed, and may in fact mask an increase, this is much more difficult to trace.  It also raises the question as to the impact on those seeking funds – how are funding decisions being made and how can delivery organisations increase their chances of being selected for support?
Overall the report sheds light on the significant contribution that Foundations plough into projects that seek to preserve our culture, further important research and create change at scale but also hints at, but does not fully explore why the impact of an injection of £2.9 billion isn't always felt by those seeking funding in the multiples of £1,000 or even £100,000 to deliver impact on the ground.